Israel's unilateral withdrawal from Gaza in 2005 was not a blueprint for the West Bank, a son of the late prime minister Ariel Sharon told a group of diplomats, including officials from the US, Spain and France, before Shavuot."The Gaza Strip is a completely different story from the West Bank," said Gilad Sharon as he stood by the graves of his parents on a small sandy hilltop on the outskirts of their Sycamore Farm in the Negev.The youngest of Sharon's three sons, Gilad penned a book on his father called The Life of a Leader and has already announced he is running in the next Likud primary election, for which a date has yet to be set.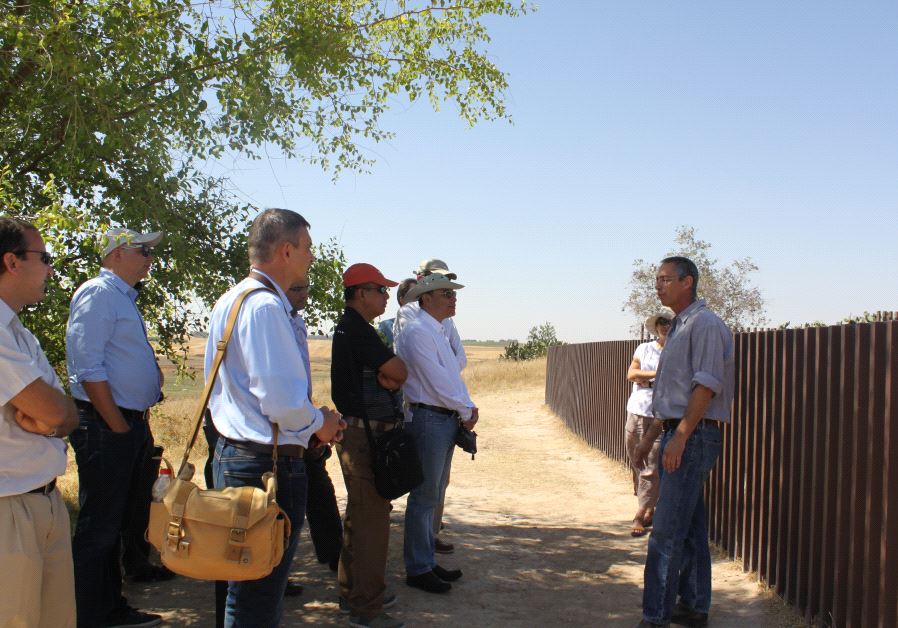 The visit was organized by the The Israel Project and the Jerusalem Institute for Policy Research as part of a series of seminars it has held on the Six Day War and its aftermath.From Sycamore Farm the group traveled to Moshav Netiv Ha'asara on the Gaza border, was which was hit by rockets and mortars from Gaza during the 2014 war.Roni Keidar took the group to the community's edge to show them the wall that separates Israel from Gaza, as well as the nearby Gaza city of Beit Lehiya.She pointed in particular to a group of apartment buildings constructed by former PA chairman Yasser Arafat for his retired officers that she said are now occupied by Hamas."During the war the tanks went into Beit Lehiya and while they were there they saw an opening to a tunnel and when they walked through it they came up here. It was a very big tunnel, it was big enough for vehicles to come through as well," she said.
Any discussion of territorial concessions in the West Bank is premature until such time as the Palestinians and the Arab world recognize Israel's right to exist as a Jewish state, Gilad said, adding that "this is the main issue" that has made Israeli-Palestinian peace impossible.Egypt and Jordan made peace with Israel, but the Jewish state is not in their textbooks.The same is true for the Palestinian Authority's schoolbooks, he continued."They [the Arabs] never accepted our right to live here" and only once that happens "will we be able to move forward," Sharon stressed. He is therefore pessimistic about the possibility that US President Donald Trump, or any world leader, could strike an Israeli-Palestinian peace deal without this important step."Now they are talking about a new deal. This is not real estate here. When you are selling an apartment and someone wants to buy it, you argue" and find a price in the middle, Sharon explained. But "when someone wants to kill you and you want to live," how can a compromise point exist?" "We have no territorial dispute with Gaza," he said, adding that Palestinians there attacked Israel both before and after the withdrawal to the internationally recognized border.Israel and the Palestinians "will never have the kind of border that you have between France and Italy," Gilad continued. If Israel would leave Judea and Samaria, he said. Palestinian Authority President Mahmoud Abbas' life would not be safe. He "would not live for one day," said Sharon, warning that Hamas would take over the West Bank as it had Gaza in 2007."[Abbas] knows that, without us, exactly what happened to him in Gaza will happen to him [in the West Bank]. It is much safer for me to walk in a refugee camp in Nablus than for him," Sharon said.The Arabs had multiple options over the last 100 years to make choices for peace to create a better life for themselves but have failed to do, he elaborated. When the United Nations presented them with the 1947 partition plan, "They did not even consider it," he said."Unfortunately I do not think we will see here a Scandinavian-style peace in the area.When you look around and see what the Arabs are doing to Arabs, half a million dead in Syria, in Iraq, the Christians in Egypt, the only place in the Middle East where the Christians are [flourishing] is in Israel."His father, he said, understood the dangers that surround Israel. In executing the withdrawal from Gaza, his father believed he had received three significant promises from the US in a 2004 letter by former US president George Bush and that was ratified by an overwhelming majority of the House and the Senate. This included no return to the 67 lines, "secure and recognized borders" that take into account retention of territory with "already existing major Israeli populations centers," and a promise that Palestinian refugees would not be resettled in sovereign Israel."Before '67 the border was on the outskirts of Tel Aviv. In the area of Netanya, Israel was 15 kilometers wide. When you see all the lunatics around, when you see what they are doing to each other, just imagine what they would have done to the Jews if they could," Sharon said."Whenever the other side would like to change the approach, we are here," he offered.